Search Engine Optimization or SEO is a complex process that has a number of different types. All SEO types have the same goal: To optimize a website for greater visibility in search engines.
Let's start with a quick definition of what is SEO.
SEO is the process of making a website easier to understand by search engines and friendlier for users. The overall goal of SEO is to increase organic traffic from search engines by improving the positions the website appears in the SERPS for various search terms.
At the beginning (think early 2000), SEO was simple but over the years the whole SEO process has become complex.
When optimizing a website for search engines, you have to consider hundreds of rules to satisfy the various search engine ranking factors and at the same time keep your users happy.
What is important to understand is that these subsets of SEO are not a different process, it's just a way of breaking down a complicated process in several smaller processes that are easier to manage.
So, the various SEO types are:
Technical SEO
On-Page SEO
Content SEO
Off-Page SEO
Local SEO
Mobile SEO
eCommerce SEO
The most important are Technical, On Page and Off Page SEO as shown in the diagram below.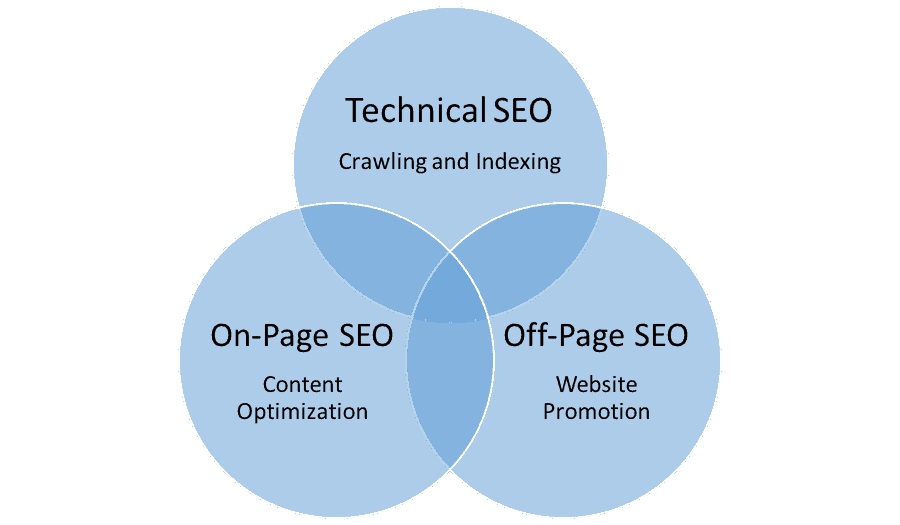 Technical SEO
Technical SEO is exactly what the name implies i.e. technical parameters that affect the visibility of a website in search engines.
The main goal of technical SEO is to ensure that search engine crawlers can crawl and index a website without any problems.
The most important technical SEO guidelines are:
Check and optimize your robots.txt to make sure that search engines can correctly access your website.
Add and verify your website with Google Search Console and specify your preferred domain.
Use the COVERAGE report to find and fix crawl errors.
Create an XML Sitemap and submit to all major search engines.
Optimize your site structure and URL structure.
Follow SEO Friendly web design
Create websites that load fast on both desktop and mobile devices.
On-Page SEO
On Page SEO has to do with the page itself and how to make it friendlier to search engines and users.
It should be noted that while search engines look at a website as a whole, ranking is performed on a page level basis.
That's why it's important to pay attention to the optimization of each and every page on your website.
The most important on-page SEO guidelines are:
Optimize your page titles. This is a critical SEO factor. Page titles are shown in the search results and should be interesting for users to click. The title of a page should also give search engine bots enough clues on what the page content is all about.
Optimize your H1 Tag. While the page title is shown in the SERPS, the H1 tag is what is shown as the top heading of a page. An optimized page has only one H1 tag and usually it has the same values as the page title.
Optimize your headings. Besides the H1 tag a page needs to have sub headings (H2, H3) for the different sections. In case of long form content, subheadings make the page easier to read by users and scan by crawlers.
SEO for Images. Any images used on a page should be properly optimized, otherwise search engines cannot understand what they represent. Things like optimizing the filename, file size and ALT text are critical for image SEO.
Page formatting. Publishing a page with text and images without spending time to beautify the content is not a good SEO practice. Although Google cannot 'see' a page like a human, they have ways to understand how a page looks or if it's full of ads and popups and this is taken into account during the ranking process.
Off Page SEO
Off-page SEO is all about promotion. While the previous SEO types concentrated more on the website infrastructure and content, off-page SEO has to do with techniques you can use to promote your website on the Internet.
Websites that are popular are more likely to rank higher on Google than less popular websites.
The most important off-page SEO methods are:
Link Building. Link building is the process of getting SEO backlinks from other websites.
These backlinks act as 'votes of trust' and increase the authority of the target website (provided that they don't have the nofollow attribute attached to the link).
Brand Promotion. Google likes to rank known brands high in the results because people trust them.
Besides promoting your website to get backlinks, you should also work on promoting your brand and encourage conversations about it in the various social media networks and forums.
Google can pick up these signals and reward websites that people talk about.